De Stijl
BY JULIUS TAMINIAU ARCHITECTS
DESCRIPTION
Geometric
elegance.
De Stijl table exudes elegance. It challenges gravity. Embodies refinement and embraces traditional artisanship.
Thanks to a combination of sustainable craftsmanship and innovative techniques, De Stijl table is a perfect reflection of Japanese design philosophy.  
The minimalistic design approach of Atelier Julius Taminiau is perfectly encapsulated in this table. This elegant object attracts interest and invites inspiring conversations.  
The De Stijl table is available in several standard sizes, although custom-made versions are also possible. The ØDE team will gladly assist you with your preferences, and can also help you to find the ideal place for your De Stijl. Download our comprehensive product fact sheet here.
Dimensions
Other dimensions
225 x 100
247 x 100
270 x 100
292 x 110
Thickness tabletop
Height tabletop bottom
Height tabletop top
4 cm
71 cm
75 cm
Solid wood
Wood is a beautifully lively natural product. Differences in color, drawing and structure give wood character. It is a lively and 'warm' material that becomes more beautiful with age. Our tables are finished with a very high quality 2-component lacquer.
On the photos the Style table is shown in American walnut. A characteristic type of wood with characteristic drawing; solid walnut in the living room or kitchen makes a statement.
With a subtle classic tone, dark walnut brings a warm balance to many contemporary interiors where minimalist architecture, steel or black wooden doors + windows and industrial cast floors form the foundation of the living environment.
TYPE OF WOOD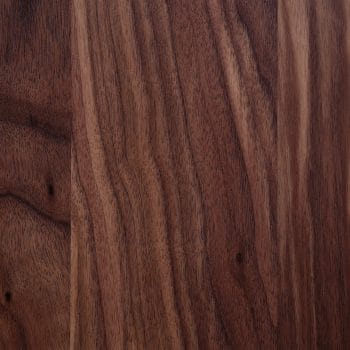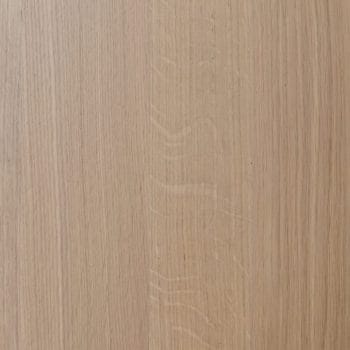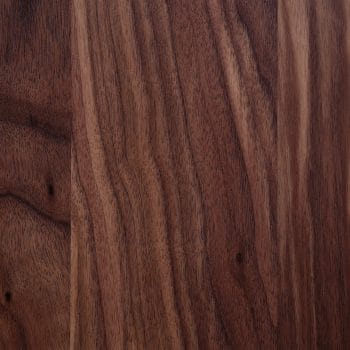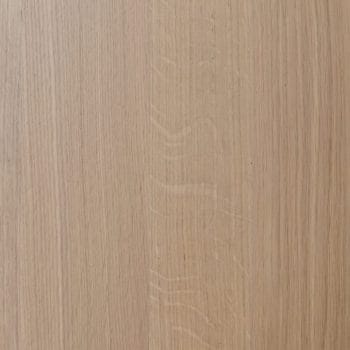 Walnut
Natural white oak
Carbon oak
General
Solid wood 'warps'. This means humidity and temperature can causes changes to take place in the size and shape of the material. 'Warping' can be reduced by making sure that the room temperature remains between 15°C and 24°C and humidity remains between 45% and 60%. So do not place your table too close to a heat source (stove, fireplace, radiator, etc.).
Light and air can cause discolouration in wood. Excessive discolouration can mainly be attributed to strong sunlight. It is thus best to place your table so that it is not exposed to too much sunlight.
Our tables are finished with a high-quality matt lacquer which is very strong. However, there are certain things you can do yourself to keep your table beautiful.
When your table has just been varnished, it will take 2 weeks until it is fully cured. So in the 1st period you have to be a little careful. Therefore avoid heavy loads, heat and excess moisture.
Important tips for wooden products with a matt lacquered finish:
• For daily maintenance, the table can simply be wiped with a soft, dry cloth
• Make sure that spilled liquids are cleaned immediately using a soft, clean and slightly moist cloth
• Do not use caustic products
• Use a coaster to prevent water rings. It is also recommended to use coasters for hot objects, best to always use a placemat or tablecloth to avoid scratches and stains.
• Prevent scratching of abrasive surfaces by using felt pads
• It is better not to use abrasives, rough sponges or cleaning equipment, as this will scratch the table top.
Although lacquer is more resistant to moisture than oil, you can expect stains and circles if water or liquid remains on for a long time. Especially moisture that cannot evaporate because it is covered or locked up, will eventually affect the lacquer. So be careful with wet cloths, cups, vases or dishes.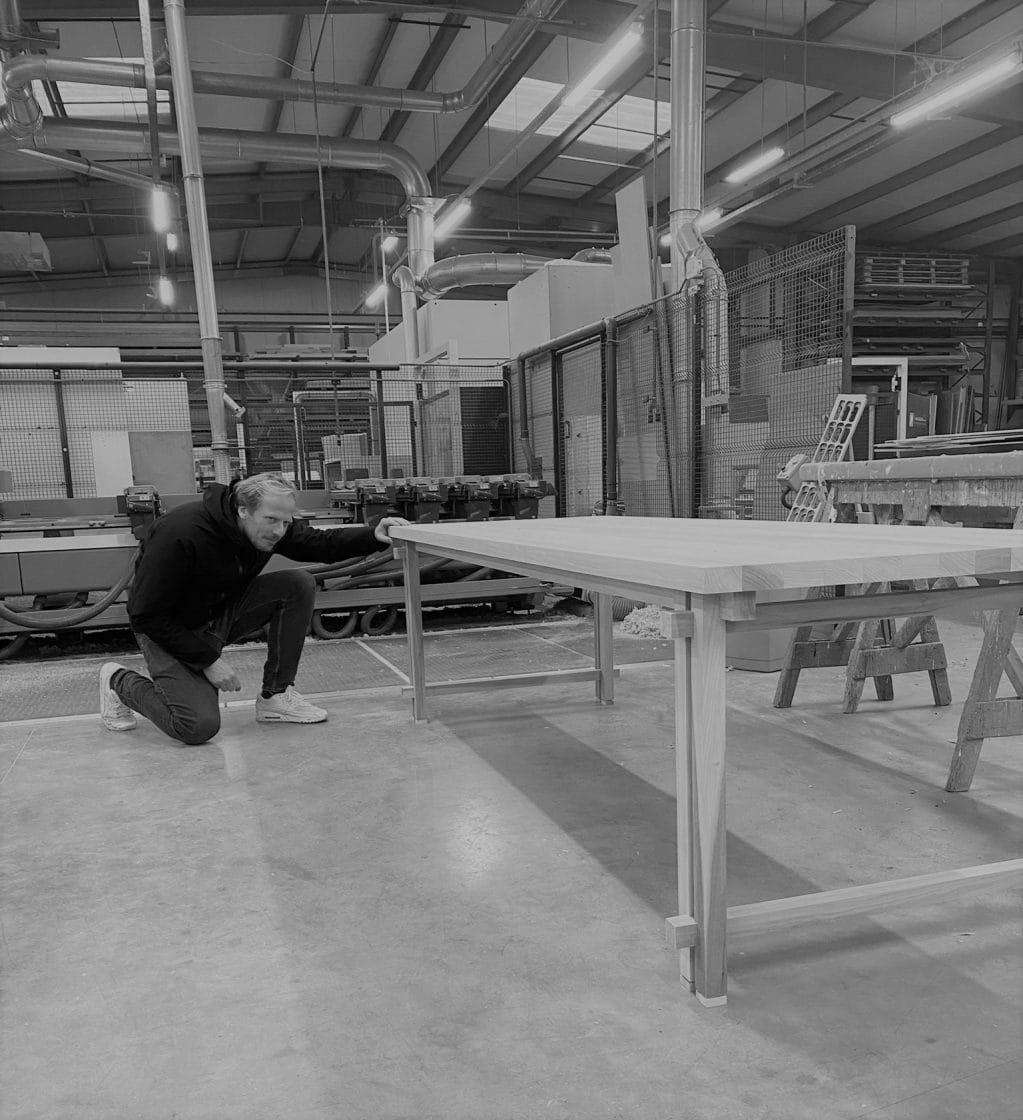 JULIUS TAMINIAU
About the design
of De Stijl.
The design of De Stijl table is based on Julius' search for the essence of De Stijl and Japanese culture. The eponymous art movement is strongly connected to Japanese culture, and is also referred to as Japonism.    
It involves paying great attention to connections between so-called intersections, but also exploiting how 'light' elements are perceived. For instance, if something appears to be light, then it also looks elegant. The table looks elegant and fragile, while the connections are unbelievably strong. De Stijl table introduces artistic, timeless and refined class to any interior.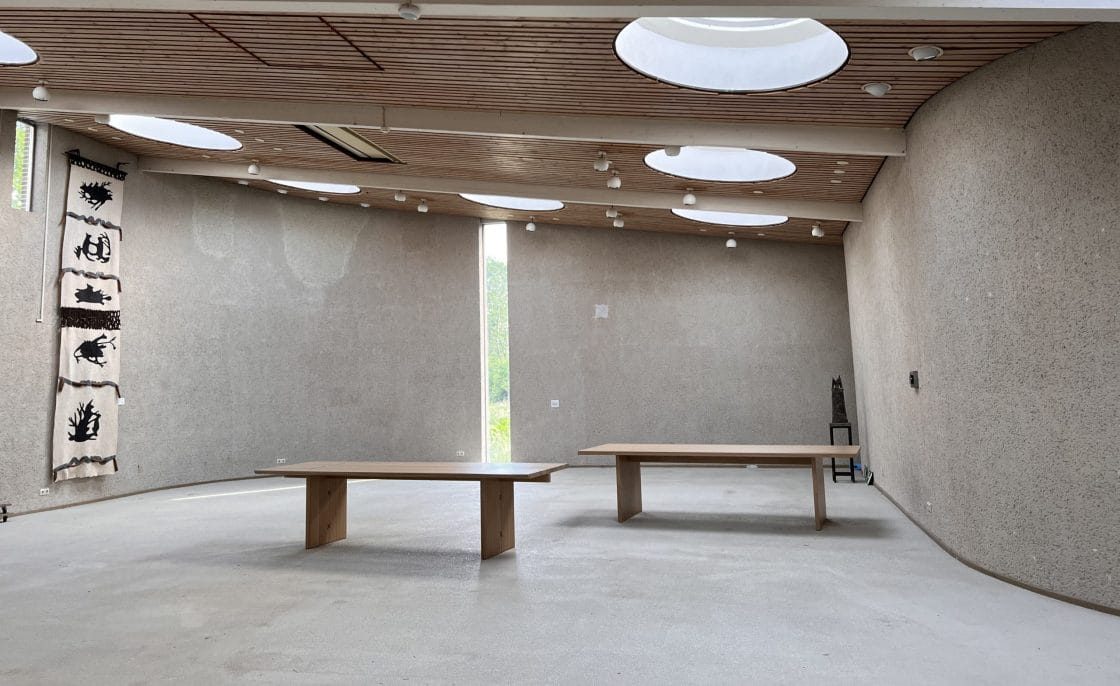 Experience
our collection.
Do you want to see the ØDE designs for yourself? This is possible at our special and historic location on the outskirts of Udenhout. Interested in a visit? Please make an appointment below.